Fire Alarm Systems
Inter Connection Electrical engages in the business of installing, servicing, of Fire Alarm system with integration with Fire Pump, Gas Booster Pump, Smoke Control Systems, Elevator Recall and Generators. ICE also deals with the installation of the in-building auxiliary radio communication (ARC) system as per the 2014 NYC building code.
Trust Our Team With All Your Electrical Service Needs
Each team member of ICE is fully trained to provide superior electrical services on every project we execute. Our electrical specialists are well versed in the latest industry guidelines, standards, and stay on top of any changes or updates in the state or local building codes to ensure safe and reliable electrical services for your commercial space. Your peace of mind is our top priority.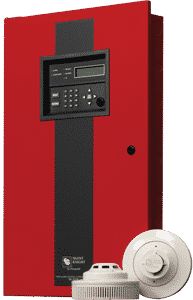 Fire Department In-Building Auxiliary Radio Communication System (ARCS)
An auxiliary radio communication system is an emergency two-way communication system that first responders usually FDNY can use when responding to a fire or other urgent situation in your building. This emergency communication system enables full radio communication throughout the building usually via the stairwell. This is mission-critical when other forms of communication are unavailable, and there's an emergency (fire) unfolding.